One of my current obsessions is infinity pools. And from the comments on my Insta post about it, it seems I'm in good company. I mean what is better than a continuous panorama enjoyed from an infinity pool, your favourite refreshing beverage in hand?! I'm always looking for the best places to visit for my clients. So I had to make a list of hotels that make a day at the pool worth flying for!
I scoured the globe and in no particular order here are 10 of the most beautiful infinity pools around the world:
Of course if there's a potential view of elephants that's going to be my first pick!
The Four Season Safari Lodge Serengeti in Tanzania

An infinity pool in the heart of Tanzania's wildlife-dense Serengeti National Park...yes please! Bar service plus herds of wild elephants, as well as wildebeests, giraffes, zebras and other amazing creatures...what on earth could be better?!

The Cambrian Hotel, Abelboden, Switzerland
This one is on every list of best infinity pools! A luxury spa hotel located in the small village of Adelboden, the heated, outdoor infinity pool overlooks the stunning Swiss Alps, which you will find equally impressive whether you visit during the summer or the snowy winter season. This is exactly the place you dream of going to in order to connect with nature and relax in style.
Hanging Gardens, Bali
One of the jewels of Ubud, the 5-star hotel is gorgeous as a whole but primarily known for its jaw-dropping multi-leveled infinity pool which overlooks the jungle. This is THE most photographed swimming hole in the world. Swim to the edge and take in the sights and sounds of the lush foliage, sloths, toucans and monkeys.
Grace Santorini, Greece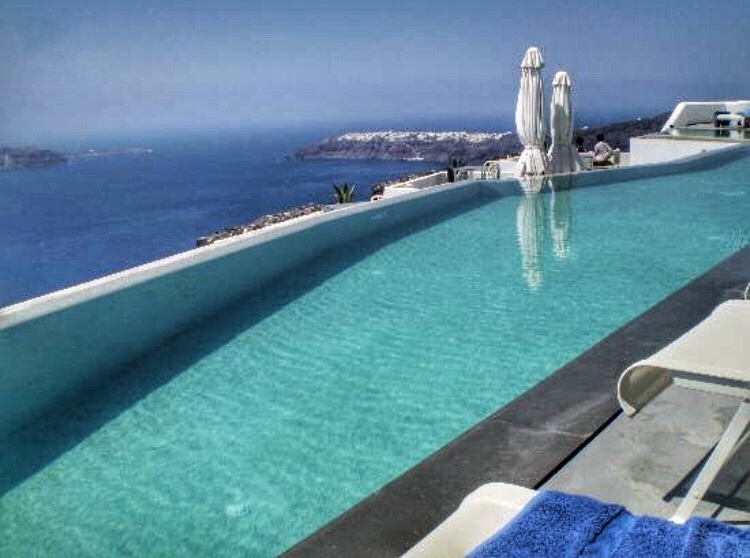 This is another that is on pretty much every list of best infinity pools. While it's probably impossible to find a bad view in Santorini, the infinity pool at Grace Santorini takes it up to top notch with it's panoramic vistas of the cerulean Agean Sea and whitewashed villages. What could make it better? Possible the signature Grace cocktail, a tasty blend of apple, pear, lemon juice, vodka and lemongrass. Cheers!
Marina Bay Sands, Singapore
There are some seriously awesome rooftop bars in Asia, but the best rooftop infinity pool (and the world's largest!) is found at the futuristic Marina Bay Sands Hotel. Hovering a vertigo-inducing 57 stories above Singapore, the 500-foot pool is an architectural feat. To visit you must be a guest of the hotel which means you are getting some prized Instagram pics!
The Resort at Pedregal, Los Cabos, Mexico
With a beachfront spot and not one, but two infinity pools, you are guaranteed a front-row seat to Los Cabo, Mexico shorelines. You could see breaching humpbank whales, playful dolphins, and the natural arches of Land's End. Order a guava margarita from the swim-up bar and settle into one of the pool's signature wet loungers planted in about six inches of water. Meet you there?!
Cirigan Palace, Kempinski, Istanbul
Dream of staying in a sultan's palace?! Then this regal property is just for you! The waterfront infinity pool appears to flow endlessly into the Bosphorus river which divides two continents. So you're living it up in Europe with views across the river of Asia. Super cool yes?!

One & Only Reethi Rah, The Maldives
This place is pure luxury. While there really is no reason to leave your luxurious over-the-water bungalow at this dreamy private paradise, the dazzling "Serenity" infinity pool might entice you. Extending 30 metres into the lagoon, overlooking neighbouring islands and featuring an internal Jacuzzi and a carved stone bed at one end, how could you pass it up?
Belmond Hotel, Caruso, Italy
This former 11th century place is set at the highest point above the Italian town of Ravello, where you are in the prime spot to take in the stunning Amalfi Coast. The expansive and luxurious infinity pool is pure bliss with its waters appearing to flow into the Mediterranean Ocean down below. All you need to do is lay back and let staff spritz some Evian mist on your face while you're sipping on...what else but your Aperol Spritz!

Alila Ubud, Bali
In the top 20 of the 2017 Conde Nast Traveler Readers Choice Awards, located high above the Ayung River, Alila Ubud has been laid out as a Balinese hillside village and the resort's rooms stand above a ravine on stilts like tree houses. The jaw-dropping infinity pool lets you feel like you are swimming among the canopy of the surrounding rainforest. You are pretty much guaranteed to feel on top of the world!

There you have it, my picks for 10 of the best infinity pools in the world. Send me a message and tell me which one you loved the most...

I am always getting asked..."How do you travel so much?" I work a full-time job and yes, I do get to see much of the world. You can say I'm lucky or blessed, and I'm not going to disagree. However I strategically ensure it happens. If you'd like my secrets so you too can travel more while working full-time, you want to download my free guide now: HOW TO TRAVEL MORE WHILE WORKING FULL-TIME



Anywhere