THE BEST THINGS TO DO IN PERU
With its diverse land and rich culture there are so many places to visit in Peru! Unless you have an extended period of time (and even then) you just can't get to it all. So how do you plan? There are the must-see things every traveler puts on their Peru trip itinerary, like visiting Machu Picchu. But there are also places more off the beaten path. Already planning is getting overwhelming! Even Lonely Planet isn't much help.
Where to start? When planning a trip, the way I start, is to create a list of must-sees and build an itinerary around that. For this reason, here's a travel guide to 10 places to visit in Peru, which are reasonably accessible and perfect for your first visit to this country.
Machu Picchu
This ancient Incan city hidden deep in the mountains of Cusco has become synonymous with Peru and Incan culture. Both a UNESCO World Heritage site and one of the Seven Wonders of the World, its beauty is not overrated. This archaeological wonder never ceases to amaze visitors, drawing them in by the thousands every day.
The site consists of temples, farming terraces, an intricate water duct system, tunnels and towers. It showcases the architectural proficiency the Incans possessed, and their talent for urban planning, which made their empire the force it once was.

I'm going to assume if you are planning a first-time trip to Peru this one's as given and therefore won't include it in my top 10.
Visit the Sacred Valleys of the Incans
The Sacred Valley of the Incas is a must for history buffs and cultural connoisseurs. Geographically, the Sacred Valley stretches along the Urubamba River from Pisac to Ollantaytambo, which is the starting point for the Inca Trail to Machu Picchu. Aside from the many ruins and archaeological sites, the region is well known for its remarkable landscapes and lush agriculture.
If you're going to be visiting Machu Picchu you will be in Cusco already where guided tours of the Sacred Valley can be easily arranged. You can up the adventure travel factor and arrange tours that include river rafting, horseback riding, mountain biking and hiking.

See Condors in Colca Canyon

You've probably heard of the Grand Canyon in the US; but have you heard of the deepest Canyon in the world? The Colca Canyon is located near the southern city of Arequipa. The Canyon has multiple trails to hike, picturesque hot springs, and many people's favourite...Condors.
Condors are one of the largest birds in the world and the national bird of Peru. In the Colca Canyon they visit the same cliff face every day in large numbers. There is no guarantee you will see them there, but it's a pretty sure bet.
Hikes in Colca Canyon last from a couple days to longer. Realize though, hiking into the deepest canyon in the world means a long steep hike back out! If you're not a hiker, you can still take a day-trip to see the canyon, including the condor lookout point.
Visit Beautiful Arequipa
Arequipa is stunningly beautiful, no doubt about it. Since you'll be in Arequipa anyhow if you're visiting Colca Canyon, you might as well spend an extra day here.
Nicknamed "La Ciudad Blanca" or "the white city" because much of city center was constructed of sillar, a type of white volcanic rock. Some of the most impressive buildings are located in the main square, Plaza de Armas, with the most spectacular being the Basilica Cathedral. Nearby also is the fascinating Santa Catalina Monastery. A great city to explore by foot, whether independently or by joining a walking tour.
The Amazon Basin
The Amazon jungle is the largest rainforest in the world and is home to more than half of the world's animal, bird, and insect species. But of those species, Peru's amazon jungle is the most diverse. There are several locations to explore and it can be hard to decide where to go.

My recommendation is Puerto Maldonado, which is located near the Brazilian border in eastern Peru. To access the few eco-lodges in this area you must head up the river by boat as no roads enter this area, which makes Puerto Maldonado the gateway to some of the most remote areas of the Amazon.
Dune Buggy Tour in Huacachina
This small town on the coast of Peru is unlike anywhere else in the world because it is built around a lake amidst huge sand dunes. You can pick from a variety of soft adventure activities. Go sand boarding, a ride in dune buggy, or kayak in the lake. Whatever you decide, I also recommend that you go for a hike on the sand dunes and watch the sunset over the town.
Bonus: Huacachina is ten minutes from a wine and pisco region. Pisco is the alcoholic main ingredient in Peru's signature drink, the Pisco Sour. You can learn how Pisco is made and sample different types on a short day tour.
Lake Titicaca and Uros Floating Islands in Puno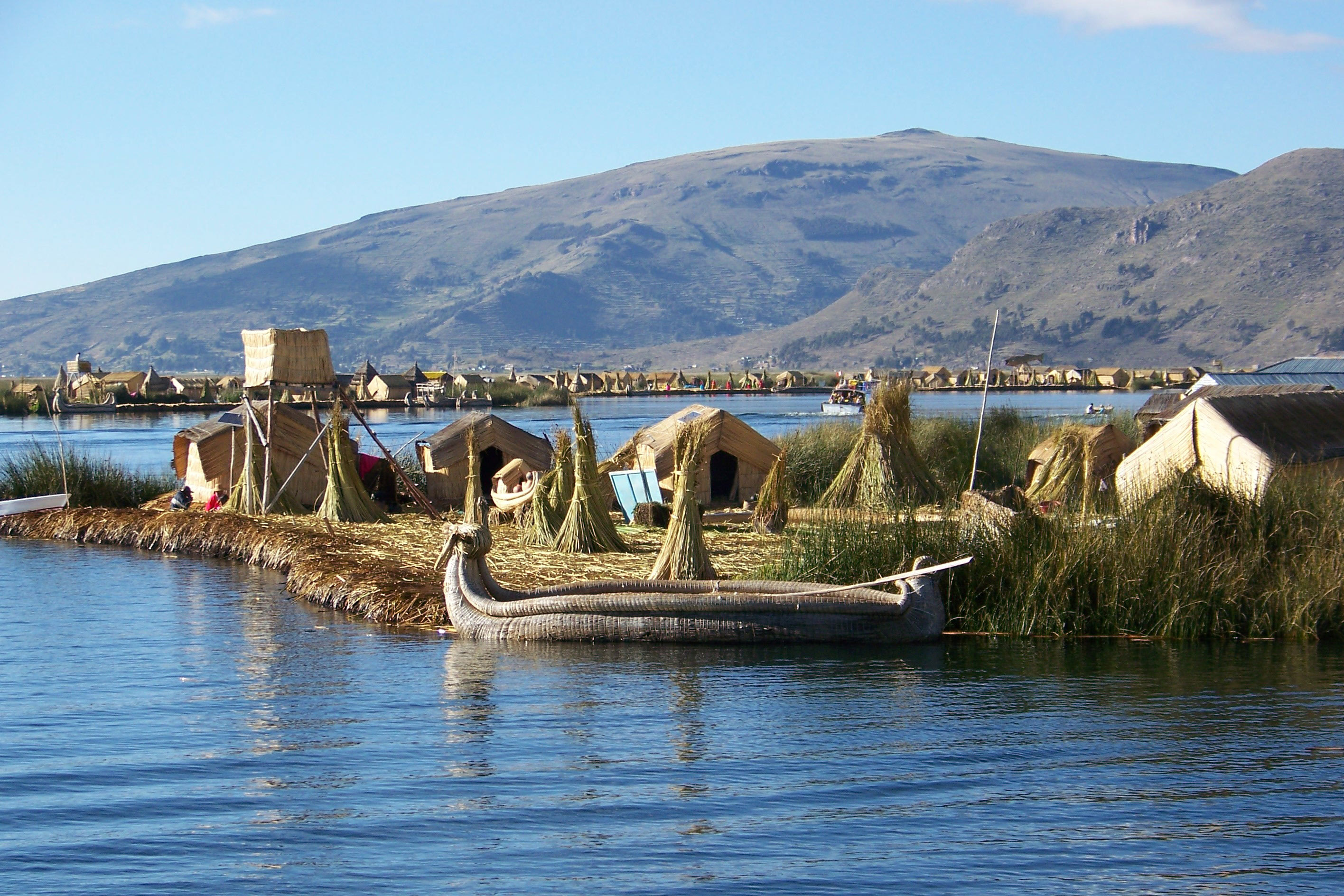 The crystal blue waters of Lake Titicaca are home to over 70 man-made islands, known as the Uros Floating Islands. These islands are unique because of the material used in their construction. They are created completely out of buoyant Totora reeds, a bulrush sedge that grows on the lake's surface. The dense roots are stacked on top of each other until an island is formed. Because the bottom starts rotting and disintegrates over time, new layers are continually added to the top.
The Urus people live in a collection of traditional reed houses that are built on top of these islands, each differing slightly from the other. In ancient times, these islands were originally created for defensive purposes, allowing for easy mobility and retreat. Nowadays, the floating existence of the Uros people can be seen in their thriving and welcoming community, with each person contributing to the continuation of their traditional lifestyle. Arranging a homestay is the ultimate experience here.
Explore Lima
Many travellers just consider Lima a stopover on the way to the tourist hubs of Cusco and Arequipa. That's a crying shame.
Lima has become the unofficial gastronomical capital of South America and that alone is reason enough to spend some time here. But the City of Kings has plenty of other things worth staying for - colonial-style architecture, history, nightlife - this Peruvian gem really does provide something for everyone. If it's adventure activities you're looking for, well Lima has that too - surfing, paragliding, biking and more.
Stay in Barranco with it's bohemian charms; colorful houses and murals line its streets providing a needed contrast from Lima's pervasive greyness.
Nazca Lines

Located in the Nazca Desert plains, the mysterious Nazca Lines are a series of ancient geoglyphs that range from wildlife to geometric designs. There are several theories about how and why the geoglyphs were created, but it seems nothing is conclusive. Regardless, the Nazca Lines are one of Peru's most interesting and peculiar attractions. The best way to view these World Heritage-listed geoglyphs is by airplane.
Nazca Lines Air tours depart from Lima as a full day tour (about 11-12 hours). Much better to combine this with a trip to Paracas and explore the nearby Paracas National Reserve and Ballestas Islands.
See penguins and wildlife at Ballestas Islands

The Islas Ballestas are a small cluster of islands off the southern coast of Peru, often called the poor man's Galapagos. These islands are home to many rare birds, including pelicans, penguins, cormorants, Peruvian boobies, and Inca terns. It's also common to spot sea lions, turtles, dolphins, and whales inside the marine park.
Located a short 24 km from the beach town of Paracas (near Pisco), these islands are only accessible by tour boat, typically lasting 2 hours. Aside from the Peruvian Amazon, the Ballestas Islands and Paracas National Reservation offer the best wildlife experience in Peru. Tip: it's not possible to visit the Ballestas Islands without a tour.
Hiking in Peru
There are just so many options. It is arguably the best place in South America for trekking and mountain climbing expeditions and you should find out for yourself.
Even if you're not typically a hiker, it's worth considering at least a day trip. Laguna 69 is one of the best of those. Other well-regarded hikes are the: Inca Trail (4 days, moderately easy), Santa Cruz Trek (4 Days, moderate); the currently very popular Rainbow Mountain (1 day, moderate), Salkantay (4-5 days, moderate), Ausangate (5-6 Days, moderately difficult and Colca Canyon (2 days, moderate).
For serious trekkers, the Cordillera Blanca is arguably considered the best hike in Peru. I personally did the Choquequairo route considered difficult.
So as you can see there is so much to do and see in Peru. Which of these would you like to visit?
I am a professional Travel Advisor who specializes in sustainable adventure+wellness trips for the curious and the conscientious. It is my mission to enrich my clients lives through exceptional travel experiences. Contact me at shariblock@findyourhappytravels.com to start planning your next vacation now!
Download my free gift: THE ULTIMATE GUIDE TO TRAVELLING MORE WHILE WORKING FULL-TIME