"…adventures don't come calling like unexpected cousins calling from out of town. You have to go looking for them." ~Unknown
Kick off a new decade by making 2020 the year of adventure! A dream without a plan is just a wish, so make a travel bucket list for yourself. It's now always about the best places to visit, sometime the journey itself that is the best adventure. Here's are 20 adventure travel ideas to inspire your bucket list...
REKINDLE THE ROMANCE OF THE RAILS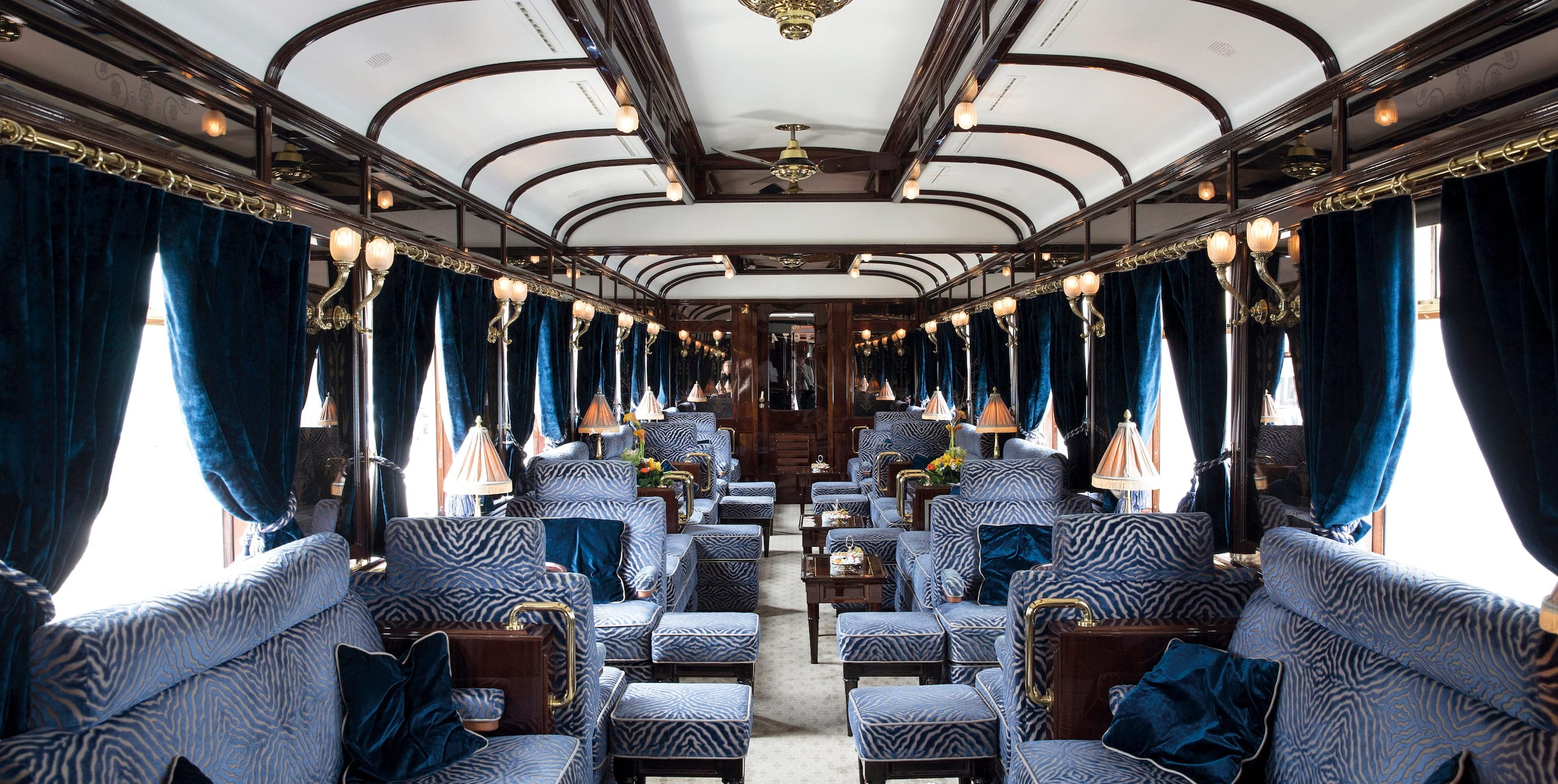 Forget about check-in lines and luggage restrictions, this is the way to travel. Bonus: train travel is an eco-friendly choice. A trip on the Orient Express, the most storied of carriages in the world, is a once-in-a-lifetime experience. Every last detail evokes the golden age of travel, from the stewards in their dapper blue and gold uniforms to the glossy wood paneling of the restored sleeping cars. These days there is a choice of routes with the Express running from London to Venice or Verona and also from Paris to Istanbul or Berlin. This experience is definitely more about the journey than the destination however, promising to take you not just across Europe but transport you back in time.
https://www.belmond.com/trains/europe/venice-simplon-orient-express/

SWIM AT THE WORLD'S BEST BEACH IN BRAZIL
Crowned number one in TripAdvisor's annual Travellers' Choice awards, Brazil's Baia do Sancho is a picturesque and undisturbed stretch of sand, located on the small island of Fernando de Noronha off the coast of central Brazil. Consistently ranked among the world's best beaches, it's a quiet spot surrounded by rainforest and is only accessible via steep steps carved into the rockside that hugs it.
For more island vibes: 20 ISLANDS TO VISIT IN 2020
GO KAYAKING IN ANTARTICA

Antarctica is a land of grand voyages. Powerful, dangerous, but undeniably exciting. The chance to venture where so few others have visited is perhaps the very reason it tops so many wish lists. Getting to Antarctica isn't easy, even once you've reached the world's southernmost city Ushuaia in Argentina. You still have a choppy voyage ahead before you reach this icy continent. The notorious sail to Antarctica across the Drake Passage can be a tough one. But once you arrive, you have the chance to see huge colonies of penguins, various species of whale and icebergs as tall as buildings. Expedition cruises leave from Ushuaia (Argentina), Christchurch (NZ) and Hobart (Tasmania).

TAKE THE "FLIGHT OF ANGELS"
It may not be the world's highest or widest waterfall, but Victoria Falls, at the Zambian-Zimbabwean border, is definitely one of the planet's most dramatic. At ground level you can feel the enormous power of the Victoria Falls as tremendous volumes of water pound into the chasm below. But it is only when you take to the air that you can take in the whole panorama and enormity of this mighty spectacle. There's no better way to see it than soaring overhead in a helicopter.
SET YOUR EYES UPON THE PYRAMIDS OF GIZA
The last remaining of the Seven Wonders of the ancient world, the great pyramids of Giza are perhaps the most famous and discussed structures in history. As familiar as the awe-inspiring triangular silhouettes of the Pyramids of Giza may be, there's nothing like seeing them with your own eyes. No picture can show how spectacular this site is. Plus, there's lots going for the Egyptian capital in 2020. The much-anticipated Grand Egyptian Museum is scheduled to finally open its doors and a new take on Agatha Christie's Death on the Nile is set to premiere in cinemas during October, making River Nile cruises even more desirable.
TOUR COSTA RICA'S CANOPY
Whether it's ziplining above a cloud forest or spotting birds from a suspension bridge, the best way to explore Costa Rica is from a height. One of the world's top ecotourism destination, Costa Rica was one of the earliest adopters of connecting nature conservation with responsible travel. Staying at the country's eco-lodges and treetop hotels is already on many a traveler's bucket list, however, as the future shifts to sustainable and eco-friendly travel, Costa Rica is only going to grow in popularity.
DIVE THE GREAT BARRIER REEF IN AUSTRALIA
2,600km of coral hugging Australia's east coast, from Bundaberg in the south to beyond Cape York; the biggest reef in the world. It has options for all: novice divers can learn in safe waters, yet still see plenty of the reef's 1,500 fish species during lessons. More experienced divers should sail to the Outer Reef for pristine coral gardens. Key hubs for diving trips out to the reef include Port Douglas, Cairns, the Whitsunday Islands and Airlie Beach.
SEE THE FUTURE IN SINGAPORE
Sleek skyscrapers, sparkling shopping malls and super-duper transport are all things Singapore is known for. Now a welcome push to make the island city-state eco-friendlier has resulted in some wonderful green spaces too, which must be seen to be believed. Gardens by the Bay encompasses three waterfront gardens, with conservatories, promenades and the astonishing Supertrees, which stretch skywards like a futuristic as yet unidentified species.
EXPLORE THE ANCIENT RUINS OF PETRA IN JORDAN
Deep in the Jordanian desert, hemmed in by sandstone crags and approached along a slither of a canyon, suddenly an ancient facade looms out of the rock. And not a weathered outline: a crisply-defined colossus, six mighty pillars guarding the entrance. The grandeur has to be seen to be believed. Allow two days (or more).
TAKE A MOKORO THROUGH THE OKAVANGO DELTA, BOTSWANA
Traditionally carved from a tree trunk, the mokoro was the common means of transport of the Bavei tribe. Today, fibreglass is increasingly common, rather than wood, but these canoes are still the best ways to explore the channels and waterways of the largest delta in the world.
CLIMB A MOUNTAIN
It's travel's greatest trekking summit – and it could well be losing its snows. Tanzania's Mount Kilimanjaro deserves to be on every travel bucket list. No other mountain manages to combine such a wealth of wow-factors to tick all those boxes: it's an aesthetically awesome monolith poking out of the African plains; it's a tough but achievable challenge; at 5,895m, it's the roof of a continent; it's a climatological oddity, proving snow can sit virtually on the equator. Kilimanjaro cannot be climbed independently. Choose a longer trip to allow more time for acclimatisation and increase your chances of success.
GET LOST IN A SOUK
The medina is the old historic part of Moroccan towns and cities, with high stone walls (like you'll see in Marrakesh and Fes) and is divided into quarters. Each quarter has a mosque, a hammam (bathhouse), a communal bread oven, a madrasa (educational institution) and a water fountain, which all serve the local community. Souks are the traditional marketplaces and are often divided into sections for the various trades. You'll see herbalists, spice sellers, metal workers, tanners, and food markets congregated on trade-specific streets. Once you enter a Moroccan souk it can be tough to leave – either because there's so much to see, or you simply can't find your way out! Marrakech is home to some of the best, selling everything from spices and tea to kaftans and tiles. And as it's named the African Capital of Culture 2020, there are many more reasons to head to this enticing African city.
Head here for inspiration for your MOROCCO ITINERARY
TAKE A GREAT WALK

Complete one of New Zealand's great Walks in style. New Zealand has ten official Great Walks, and the Milford Track is arguably the greatest of the lot. This four-day, 53.5km hike from Lake Te Anau to Milford Sound slices through the splendour of Fiordland National Park, taking in lakes, waterfalls, ice fields, forest and plenty of pioneer history, and tops out at the panoramic Mackinnon Pass (1,154m). In the peak summer trekking months (November-April), it's always oversubscribed; camping is not permitted and numbers are limited by the bunk-space available in the three DOC lodges en route. That is, unless you opt for an upgrade. Ultimate Hikes operates a series of private lodges (with both dorms and doubles) that enable hikers to tramp the track, with a guide, in a little more comfort.
Itinerary ideas for New Zealand HERE
HIKE TO MACHU PICCHU
It's basically impossible to make a bucket list that doesn't include Machu Picchu. The trouble is, when you've seen so many, photos of the Inca citadel, there's a danger it'll be a bit of a let-down. And that's one reason why, if you can, you should go on foot (but really hiking in Peru on it's own is bucket list). The city deserves the accumulated excitement, that trekking there provides. There are plenty of alternatives to the classic Inca Trail. You can do as I did and hike via the much less-visited ruins of Choquequirao; head out on the dramatic Salkantay Trail (with posh lodges en route); or tackle the tough Vilcabamba Traverse. Hikes vary in length, altitude and difficulty; acclimatise before setting off. Dry season is April-October. You must have a permit for the Inca Trail.
More inspiration for your PERU TRIP
WATCH THE SUNRISE AT ANGKOR WAT


The world's largest religious monument, Angkor Wat is part of a sprawling temple complex just outside Siem Reap. Built in the 12th century and originally constructed as a Hindu temple it gradually transformed into a Buddhist temple and the result is a gorgeous mix of architectural influences. The temple faces west and so the sun rises dramatically from behind its iconic spires. The quintessential shot of Angkor Wat at sunrise is take from behind the reflection pools, where you can see the temple's stunning silhouette mirrored in the still waters. Sunrise here is one of the most incredible sights in all of Southeast Asia.

SURF THE DUNES OF NAMIBIA

Set within the coastal desert of Namibia are the biggest sand dunes in the world.The Himalaya of the granular world: the dunes here tower up to 300m, massive undulations that shape-shift with the wind. They're not just big, they're beautiful – gracefully curved, rippled, and apricot-orange under a perennial blue sky. They attract a vast number of travellers each year, many of whom aim to climb up the sands and enjoy a thrilling slide back down.
SLEEP UNDER THE NORTHERN LIGHTS

From volcano views on a rugged landscape in Iceland to Finland to cosy lodges in Canada, To stand under the star-studded sky of the Arctic and watch the ethereal dance of the Northern Lights is to witness nature's most spectacular light show, the kind of phenomenon that seems out of this world. Totally mesmerizing. For a one-of-a-kind experience stay in one of the cozy, glass igloos in Finland.
CYCLE THROUGH TULIPS IN THE NETHERLANDS
Skip the overcrowded streets and canals of Amsterdam and escape to the country, to Kinderdijk in Netherland's South Holland province. Here, the recognizable Dutch windmills stand tall among the tulip fields and canals. Footpaths and bike trails criss-cross the area peppered with 19 mills – you'll really struggle to find a more Dutch setting than this. So vibrant you have to see for yourself!
CLIMB TO TIGER'S NEST BHUTAN
Ascending to the sacred monastery, which lies at the edge of a jagged cliff some 3,000 feet above the city, requires stamina, an ability to acclimate to elevation, and a few hours of your time. Your return for this endeavor includes sweeping vistas of the Paro Valley and a spiritual, sacred experience. This tumble-tiered fortress of white-washed walls and fluted roofs dangles 1,000m above the spectacular Paro Valley. It's built on the site of a sacred cave, which Lotus-born Buddha, Guru Rinpoche, was said to have flown to on the back of a tiger; today, the temple in his honour looks like it might fall if not for the Buddha's blessing.
JOIN IN THE GREAT CRAIK IN GALWAY, IRELAND
Often cited as the most Irish city in Ireland, it's perhaps no surprise that Galway is one of the two European Capitals of Culture. The harbour city on Ireland's west coast, sits where the River Corrib meets the unforgiving winds and waves of the Atlantic Ocean. The city's hub is 18th-century Eyre Square, a popular meeting spot surrounded by shops and traditional pubs that often offer live Irish folk music. Nearby, stone-clad cafes, boutiques and art galleries line the winding lanes of the Latin Quarter, which retains portions of the medieval city walls. 2020. A harbor city on Ireland's west coast, facing the unforgiving winds and waves of the Atlantic, Galway is full of life. Defined by buskers, pints of Guinness in pubs and an up-and-coming food scene, the city makes for one of the greatest times you'll ever have! In case you need another reason, in 2020 Galway becomes the European Capital of Cuture adding more creativity and chaos into the mix!
RAFT THE ZAMBEZI, ZAMBIA
The Zambezi divides Zimbabwe and Zambia and is one of the world's most iconic waterways, slicing its way through south-eastern Africa. After it takes a 100m-plus tumble over Victoria Falls, it squeezes through a narrow gorge for 120km, boiling up into the biggest sequence of Grade V rapids in the world. Make sure you hold on tight or you'll be in the Zambezi – along with the hippos and the crocodiles. The best time to raft the Zambezi is when the water levels are lower and more rapids are accessible, between August and mid-October.

SPEND TIME WITH AN ENDANGERED TRIBE IN THE AMAZON
It can be a challenge to take in a unique culture, but to do it sensitively and responsibly. Understandably, many struggling minority tribes don't want to be gaped at like zoo animals. But for some such groups, tourism is providing a cultural lifeline, and travellers staying at lodges or booking tours owned and run by the tribes themselves are helping to keep endangered traditions alive (and protect their much-threatened environment from developers), while also giving visitors an authentic insight into how the peoples have existed for centuries. A win-win. The indigenous peoples of Ecuador's Oriente seem to have mastered this kind of community eco-tourism; there are several well-regarded options. Trips here include canoeing and piranha fishing, sleeping in traditional thatched huts and trekking into the wildlife-dense rainforest with guides. Optional overnight camping trips for the adventurous minded.
So, the only question now is...which adventure do you want to experience first?
Adventure travel and sustainability go hand in hand. If you'd like some practical tips on how to travel more responsibly, download my free guide now, 10 WAYS TO TRAVEL SUSTAINABLY
Anywhere